Driving Ayman, one of our Palestinian partners, from Gaza to the Jordan border crossing, revealed the terrible bureaucracy of occupation, but also left me optimistic about relations with our Gazan neighbors

Bar Heffetz, 2 October 2013

It all started when I got a phone call from Julia from Other Voice. She was looking for someone to drive Ayman, a Palestinian guy who is in touch with the group, to the Allenby Bridge Crossing from which he was to travel to Amman and then fly to Switzerland for a peace conference. He was initially scheduled to fly from Cairo, but due to the situation in Egypt the Rafah Crossing is closed. After numerous phone calls and tons of bureaucracy he was issued a pass to go through Israel to Jordan, on the condition that someone from Other Voice escorted him. And so, since it wasn't too busy at work and the fuel was at the Prime Minister's Office's expense (I borrowed my dad's car…), I decided to do it.

We agreed to meet at nine a.m. at Erez Crossing, which is essentially a medium-size parking lot with a particularly small pergola and one stinky toilet. It serves the lucky few who receive entry passes into Israel, some of them fruit and vegetable dealers but the majority are patients on their way to hospitals in Israel or Jordan. We met several volunteers who assist people with getting to hospitals in the center of Israel and a sweet 2.5 year-old toddler, almost exactly my son's age, who travels to Tel Aviv once a week to undergo chemotherapy. Those who are lucky are met by volunteers or taxicabs, but since there isn't even one bus that goes through there, the taxi fares are not quite cheap either.

As expected, Ayman didn't show up at nine, but he texted me and Roni, a volunteer from Other Voice, that everything was okay and that he had already gone through the Palestinian side of the crossing and will be out in ten minutes. By 9:30 we started to get worried and attempted to find out what was going on. He said that his name hadn't been called. After a few more phone calls and an hour later Ayman texted us that he didn't get a pass. So we continued with the phone calls - trying to pull some strings, the guards at the crossing also tried to help, the people at Gisha tried to find out what was going on and eventually we got to the right office and were informed that the permit had just arrived. Two hours later, at 12:30 pm, Ayman was finally out.
The orchards are gone
The conversation with him revealed a charming young man that was leaving Gaza for the second time in his life. The first was when he went to study in Spain. He had never entered Israel. Ayman's family has lived in Gaza for many generations. His English is far better than mine. When I explained to him that I live only two kilometers from the Gaza Strip, the first thing he asked was what happens when rockets are thrown from Gaza, how do the children respond and whether I know anyone who was injured. He then asked questions about Israel's geography and was particularly impressed with the railway lines. Just before Kiryat Gat we drove by an orange orchard. The oranges were still green and he asked whether they were indeed oranges. As a child, he said, there were many orchards in Gaza but there are none left now – they have all been uprooted by the Israeli army. This was a terrible moment for me – I grew up among orchards and still wake up to them each morning today. When we passed Neveh Shalom I explained that it was a Jewish-Arab community, he said that the region reminded him of Franc
e and that he would like to live here. Throughout our journey Ayman was worried that we might encounter a roadblock and that he would be asked to present his papers. And then we were on the way leading up to Jerusalem.
Ayman in Jerusalem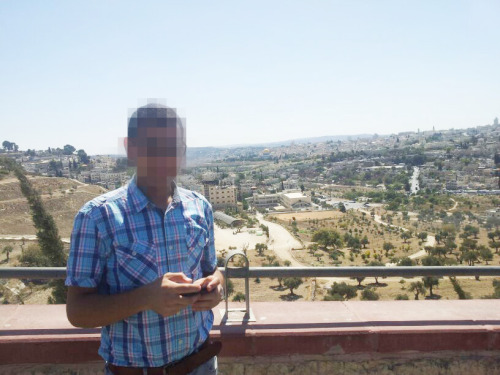 Jerusalem. This city apparently gets to people. Once I told him we were getting closer, he got excited and asked whether we will be travelling through the eastern or western part of the city. When I realized what he really wanted, I disconnected Waze and instead of descending to the Valley we drove to Mount Scopus. Ayman said that his heart wouldn't stop beating. His envy of Jerusalem's Palestinians – for their freedom and proximity to the Old City – was clear. Later, throughout our drive to the Dead Sea, he kept talking about the fact there were Palestinian vehicles on the road as well, and about the freedom and vast expanses, and I remembered that as a Gazan he lived in a cage less than 10 kilometer-wide.

When we got to the border crossing Ayman was instructed to go to a nearby site and take a special bus from there back to the crossing. A Palestinian taxi driver we met said that he would make sure he got there safely, and I said goodbye and started back home. On the way back the phone started ringing again. It turned out there were more troubles with Ayman's passport, and Roni, Gisha and B'Tselem became involved again. It would take another day before Ayman's trip to Jordan would finally be completed.

We must meet
So, what have I learned? I – who generally don't believe in politics of personal gestures, but rather in politics of protest? I became convinced that once or twice a year each one of us needs to escort someone to a hospital, help him cross the country or just deal with the endless bureaucracy of occupation. Not only would this help us understand how insane and intolerable this reality is, but it could also remind us that there are other people on the other side. Ayman and I live only 20 kilometers away from one another, we both speak Semitic languages, get wet in the same rain and endure the same heat during summer. And yet, the only common language we have is one spoken on an island in the Atlantic Ocean. This has got to change, or the end will be bitter.