Organization member Roni Keidar from Netiv Haasara, writes of her numerous meetings, lectures and encounters during a visit to the United States in February-March 2013
Roni Keidar
On February 19, 2013 I arrived in Phoenix, my first stop on the Speaking Tour I was about to begin thanks to Partnership2gether and the Jewish Federations of Phoenix, Tucson and Seattle.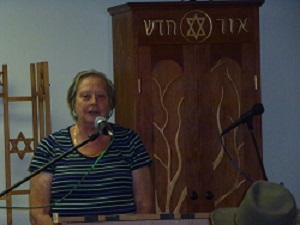 Excited full of motivation, very much at home with the message I brought with me that basically there is no contradiction between being a Zionist, a supporter of Israel and a feel for the necessity to make sure that our neighbors, the Palestinians, have a right to a homeland of their own, not instead of but side by side with Israel.
On March 20th, I was to speak at the Film Festival following the showing of the film "Blank Bullet". I chose to talk about my experience in 1982 – the evacuation of the Northern Sinai where our original village, Netiv Haasara was, in relation to the outcome of the disengagement from Gaza in 2005, as portrayed in the film. I tried to present what can happen to people going through such a trauma – either fall into depths of pain, anger and revenge or lift oneself up and look forward to the future with hope. There was a good discussion following the talk some in agreement and some not but even a woman who said that originally she thought of not coming to listen to me because she is a supporter of Israel, as she said, was happy she came and added that she intended to join me at another talk.
On Friday morning I visited the Metro West High School. There were 3 45 minute sessions of about 70-80 boys and girls at each, all from difficult backgrounds, many of which did not know where Israel was let alone Gaza. During the talks there was absolute silence in the auditorium and I saw how attentive they all were. The questions after the talk showed just how much – absolutely amazing the way they related to the hostility in the region and similar situations some of them are confronted with.
I was in Phoenix for a total of 8 days and gave 7 talks in all:
At the film festival after the film "Blank Bullet"

At Metro West High School where there were 3 sessions of 70-80 students at each, many of which did not know where Israel was let alone Gaza.

At a Women's Learning Center,

Then at the Jewish Community Center, the BBYO (Bnei Brith Youth) teens and Hebrew Highe Teens.

The NW Valley Women's Crowning event, an Adult Audience, at Temple Beth Shalom of the West Valley, Sun City, was a success and the feedback was great. At this event I met up with Ose Oyamendan, who is making a documentary on Other Voice. He filmed the event and interviewed me afterwards.

Later on that evening I gave a talk at Hillel, Arizona University to a number of students.
All in all I found that I did manage to touch a variety of people at all ages and different backgrounds.
The next stop was Tucson, where I was to spend 7 days, giving 2-5 talks a day that included a broadcast interview with Rabbi Cohan on Too Jewish, a weekly program, and another at their 10th anniversary at the Fox Theatre. I met with students at the University of Arizona, Junior High and High School classes, various congregations with various political affiliations. I was also interviewed for a the Arizona Jewish Post that was published on May 11, 2013. Here too I felt that I had touched people in different ways, from 8th graders who will be coming to Israel in the summer, Students at University of Arizona studying Middle Eastern Studies to adult and senior groups, Jewish Temples and Churches. Other Voice was definitely given an important place on the agenda.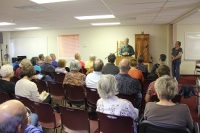 On March 8th I arrived in Seattle. That very evening I gave a talk after Friday Night services at Hillel. Here again I met with enthusiastic students who wanted to know more about how it was possible to live under constant threat of missiles and rockets and yet be against violent retaliation.. I attended a total of 14 various groups and congregations – all ages from junior high classes through University students and retired communities. I met with people who thought my views too far on the left side and those who thought they were not far enough. In all cases I felt, at the end of the talks and during the discussion, that there was an understanding to what I was trying to put across.
What more can I say? I came back with a feeling that my message was well received and the feedback I got was amazing. I think that I managed to make it quite clear that one can criticize yet love and support, that one can be a Zionist yet wish for a better life for one's neighbors, and that one can acknowledge mistakes and injustice that had been committed, without being considered a traitor, in order to make amends and move on in a better way. I also made it quite clear that I am not taking full responsibility for this never ending conflict and that it does take two to tango but it would be to our own advantage to try a new way of thinking, a new strategy because it is obvious that what we are doing now is getting us absolutely nowhere, only deepening the pain, the hatred and the vengeance.
I got the feeling that my message came across loud (not too loud) and clear even if not everyone was in agreement but that too, of course, is OK. One thing I am quite sure of, I was given a precious opportunity to meet more wonderful people on the journey of my life…